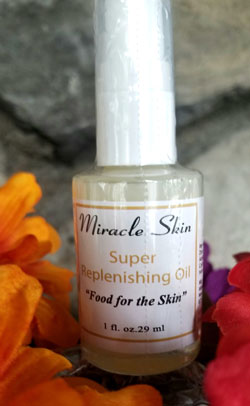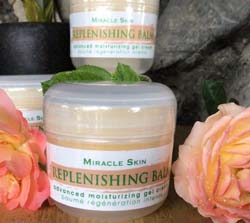 Formulated with the highest concentration of active proprietary anti-oxidant rich ingredients, our Doctors Program & MiracleSkin collection features Facial Antioxidant Creams, our newest Daily Rich Replenishing Balm, Anti-Aging Hydrating Facial Stick, Glycolic Skin Cleansers, Skin Lighteners and Anti-Acne Treatments.
Click here to view our Doctor's Program Home Use Line Of Products>
NEW!! Our divine Super Replenishing Oil, Daily Replenishing Balm And Replenishing Lotion in a Stick are our newest facial moisturizers which soothe and target fine lines, hydrating delicate skin & treating severe dry "post peel" skin - thus improving radiance & texture.
Click Here to View Our Newest Additions>

Our Doctor's Program professional line of treatments is a favorite staple used by estheticians & Plastic Surgeon's offices in Europe & the U.S. which include our famous Yellow Peel, ABC Peel, Glycolic Masques & Peels of 10% - 30%. We also carry a variety of anti -aging home use products offering our clients very specialized solutions based upon individual skin types.
Click here to view our Doctor's Program Professional Group Of Products>>
Doctor's Program skin care products has been and continues to be a trusted innovator in the development of highly effective professional skin care treatments as well as daily care home use products. We are thrilled to provide both the licensed skin health professional and anyone looking for results-oriented superb beauty products that are backed by science - for the health of your unique skin.
Doctor's Program line for home use are available to anyone without a prescription. The professional creams are also available here for licensed estheticians and professionals. 877.282.SKIN (7546).
Through years of research, Miracle Skin Ltd. has collaborated with top Brazilian Plastic & Cosmetic Surgeon Dr. Romulo Mene to formulate a high end collection of superior chemical peels, anti-aging skin care products & home maintenance treatments by Doctor's Program. Its effectiveness has been proven worldwide in helping to repair various skin conditions including hyper-pigmentation, premature aging, loss of elasticity, acne & dry skin.
Formulated with the highest concentration of active proprietary anti-oxidant rich ingredients, our Doctors Program collection features Facial Antioxidant Creams, Glycolic Skin Cleansers, Skin Lighteners and Anti-Acne Treatments.

Click here to view our Doctor's Program Home Use Line Of Products>>
Our divine Super Replenishing Oil Elixir, is our newest facial moisturizer which soothes and targets fine lines, clears pores & treats severe dry "post peel" skin - thus improving radiance & texture. Click Here to View Our Super Oil>>
Our Doctor's Program professional line of treatments is a favorite staple used by estheticians & Plastic Surgeon's offices in Europe & the U.S. which include our famous Yellow Peel, ABC Peel, Glycolic Masques & Peels of 10% - 30%. We also carry a variety of anti -aging home use products offering our clients very specialized solutions based upon individual skin types. Click here to view our Doctor's Program Professional Group Of Products>>
Use of Doctor's Program will dramatically reduce the appearance of the depth & number of wrinkles and can assist in slowing down the visible signs of aging achieving a more youthful appearance.