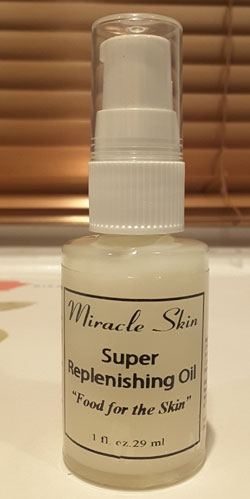 This revolutionary, non-comedogenic oil targets signs of aging, boosts hydration, brightens skin, and defends from free radicals for a more youthful-looking complexion.
Our Feather-light formula absorbs quickly for an instant dose of radiance while helping balance skin for a healthy, vibrant glow. Excellent as a post peel skin soother.
Miracle Skin's Super
Replenishing Oil Elixir
Helps Heal Dryness with Deep Moisture
$45.00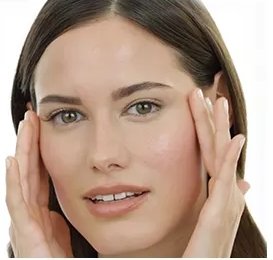 1 Drop of Miracle Skin's Super Replenishing Oil Takes Foundation From Flat to Flattering.
WHAT IT IS
Our Super Replenishing Oil lavishes skin in a blend of Hemp Seed, Emu, Rose Hips and Vitamin E oils combined with patented antioxidants, leaving it supremely soft, firm and radiant. Perfect post-peel post-shower or anytime, it's instantly absorbed imparting a subtle light fragrance. We call it the perfect "Food for your skin".
BENEFITS
Transforms skin and soothes sensitivities, alleviating even the driest of complexions. All skin types will benefit from this nourishing complete oil which is also suited for irritated facial skin.
KEY INGREDIENTS
Pure Emu Oil. This divine nutrient - rich oil penetrates & helps to heal all 7 layers of skin containing Omegas 3,6,& 9. Promotes new collagen while reducing fine lines & wrinkles on face, eyes, neck, chest & hands while Improving the overall functioning of your skin. Truly a miracle oil!
Rose Hips Seed Oil. Packed with vitamins & antioxidants esp.vitamin C, vitamin A (retinol), & linoleic acids - hydrates dry skin while deterring signs of visible aging. Protects and softens.
Hemp Seed Oil. Perfect for most skin types as it moisturizes without clogging pores. Rich in Essential Fatty Acids which bolster your skin's suppleness - moisturizes & regulates skin's oil production. Hemp seed oil absorbs better than olive or avocado oil.
Natural Vitamin E Restores lost moisture and heals reddened skin esp.after peels. Vitamin E in conjunction with the above oils will impart a dewy glowing look to your skin targeting dryness, fine lines and elasticity.
AS SEEN ON ALLURE'S Beauty Blog

Directions:
Apply a few drops to cleansed skin on face, neck and anywhere your skin is rough and dry. May be worn under makeup. For maximum results, use morning and night. Safe for use around the eyes. 1 fl.oz. bottle.
YOU'LL LOVE THE SMOOTH AND YOUTHFUL APPEARANCE OF YOUR SKIN!