Mene & Moy (formally known as Doctor's Program) has a long history in the skin care industry and is regarded by many as one of the best esthetic skin care lines on the market. It began in 1985 when Romulo Mene, MD a Brazilian cosmetic surgeon and Laurence Moy, MD an American Dermatologist, joined forces to research skin aging and developed a range of high end chemical peels, anti-aging skin care products & home maintenance treatments to counter the effects of sun damage, premature aging, hyper-pigmentation, loss of elasticity, acne & dry skin, pollution and time.
Our Mene & Moy home & professional use skin care products are for both the face & body. Proponents claim the Mene & Moy line of products is like a ' Veritable alternative to surgery'. The effectiveness of this program lies in the high concentration of proprietary active ingredients used-notably stabilized Vitamin C ( collagen & elastin stimulators) & Glycolic Acid. These form the basis of each formula developed by Mene & Moy. Our Mene & Moy professional line of treatments is a favorite staple used by estheticians & plastic surgeons offices in Europe and the U.S. which include our famous Yellow Peel, ABC Peel, TCA Lotions 20% & 30%, & Glycolic Masques & Peels of 10% - 70%.
Click here to view our Mene & Moy Group of Professional Use Products>>>>
Our MiracleSkin line of products continues to provide superb results with our divine famous Super Replenishing Oil, Daily Replenishing Balm with Emu Oil, and our newest portable "Lotion in a stick"- our newest facial moisturizer which soothes and targets fine lines, hydrates dry skin & treats severe dry "post peel" skin- improving radiance & texture.
We are THRILLED to provide BOTH the licensed skin health professional and anyone looking for serious enhanced appearance results our Mene & Moy skin care program.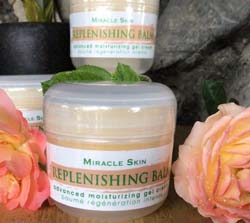 NEW!! Our divine Super Replenishing Oil, Daily Replenishing Balm And Replenishing Lotion in a Stick are our newest facial moisturizers which soothe and target fine lines, hydrating delicate skin & treating severe dry "post peel" skin - thus improving radiance & texture.
Click Here to View Our Newest Additions>