THE BEAUTY SECRET OF WOMEN AROUND THE WORLD IS NOW AVAILABLE TO YOU!
FREE SHIPPING ON ALL ORDERS OVER $150.00 WITHIN THE CONTINENTAL UNITED STATES
(Excluding Alaska and Hawaii) International Shipping Info>

FACIAL ANTIOXIDANTS
Doctor's Program Antioxidant C Lotion
This lotion is an optimal combination of select antioxidants: Vitamins A,C,E, Grape Seed Extract, Green Tea Extract, Shea Butter and Phytic Acid- all of which infuse the skin with essential hydration.
Similar to Glycolic Acid, this lotion when used regularly can texturize and tone skin for a healthy radiant glow, increased shine, and help minimize the look of fine lines and wrinkles.
Antioxidant C Lotion
30ml (1.01oz)
$65.00
Doctor's Program Antioxidant C Masque
10% This formulation contains a special anti-oxidant complex which synergically performs a scavenger effect on the skin's free radicals. We've combined Phytic Acid, Vitamin C 10%, Chamomile extract and Vitamins A & E for an
immediate
antioxidant and cleansing effect . This transparent peel-off masque transforms dull skin and removes dead cells from the surface of the skin to brighten areas of uneven pigmentation, leaving skin feeling smooth, toned and refreshed. Suitable for most skin types, apply a thin layer of this masque to cleansed face and/or neck. Let dry for around 20 minutes before removing with fresh water.
Antioxidant C Masque
50 gram (1.01oz)
$60.00
Doctor's Program 'C' Concept Infusion
is a # 1 favorite among our loyal Doctors Program Clients. We've combined Pure Vitamin C increasing collagen production along with vitamins A & E minimizing fine lines while moisturizing & protecting your skin.
Effectively brightens lack luster skin and considered a perfect burst of long lasting hydration for dry skin.
'C' Concept Infusion
1 oz pump bottle
$75.00
Sample sizes are now available for home and professional use. Please email us for availability.
FACIAL SKIN CLEANSERS
Doctors Program Balancing Facial Cleanser
is Glycolic Acid Free and designed to provide a balance between deep thorough cleansing and dual action moisturizing. Contains humectants that draw and retain moisture while removing debris and preparing skin for the next treatment phase.
Balancing Facial Cleanser
150 ml (5oz)
$60.00
Doctor's Program Facial Gentle Cleanser 4%
contains 4% Glycolic Acid.
This 4% Glycolic cleanser gently removes oils pore clogging debris and dead cells, leaving skin immaculately clean and radiantly refreshed. Ideal for use on sensitive or dry skin. For best results use twice daily in the morning and at bedtime.

Facial Cleanser 4%
150 ml (5oz)
$60.00
Doctor's Program Facial Cleanser 10%
contains 10% of Glycolic Acid and has been especially developed to clean oily skin and remove dead cells from the skin's surface.
In addition, accelerates the treatment of wrinkles on sun damaged skin.
Facial Cleanser 10%
150 ml (5oz)
$65.00
BODY CLEANSERS
Doctor's Program Face and Body Cleanser
contains 15% Glycolic Acid and will wash away dead cells, excess sebum and impurities that have collected on the surface of the skin and in the pores. It also lightly resurfaces to refine uneven skin texture and pigmentation. When used regularly, it can help to reduce the severity of acne breakouts, oily skin and blocked pores for an all-together healthier looking complexion.
Suitable for most skin types, this cleanser works best on oily, congested and combination skin types. Apply the cleanser to dry skin and leave for a few minutes before rinsing away with warm water.
Great Cleanser
Removes Dead Cells
Unblocks Pores
Face and Body Cleanser
150 ml (5oz)
$80.00
SKIN LIGHTENERS
Doctor's Program Nutri Cream
helps treat the appearance of mild Hyperpigmentation such as dark patches on the skin around the eyes and treatment of lighter discoloration on the face.
Containing 4% Phytic Acid, vitamins A and E, and Shea Butter, this Nutri Cream also makes an excellent moisturizing treatment for mature skin and works well as a recovery cream post-treatment.
Nutri Cream helps to provide a more even skin tone and calms any irritation and redness through anti-inflammatory properties. Apply sparingly every night after cleansing.
Hyperpigmentation treatment
Mildly exfoliating
Conditions and smoothes
Apply every evening
See Ingredients>>>
Nutri Cream
(1.76oz ) 50 gram
$60.00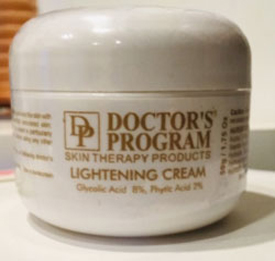 Doctor's Program Lightening Cream
is an excellent creamy moisturizing formulation containing: 8% Glycolic Acid, 2% Phytic Acid, and grape seed extract.
Indicated for the treatment of chronic sun damage marks on oily or dry skin.
Lightening Cream
50 gram (1.76oz)
$55.00
Doctor's Program Skin Bleaching Gel
formulation contains 10% Glycolic Acid and 4% Phytic Acid (tyrosinase blocker).
Acts as a lightener for skin that has been stained from many causes. Indicated for normal to oily skin.
Skin Bleaching Gel
30ml (1.01 oz)
$60.00
ANTI-ACNE TREATMENT & SUN PROTECTION
Doctor's Program Glycolic Acid Masque 10%
contains Kaolin and Bentonite Clay which go deep within the pores to remove excess oil, impurities and debris. Blackheads and blemishes are reduced thanks to Glycolic Acid which removes the build-up of dead cells that can aggravate congested skin. This weekly masque helps to control sebum production while improving the texture of the skin for a healthier complexion. Ideal for oily, combination and acne-prone skin types. Apply to clean skin and leave for around 4 minutes before removing with lukewarm water.
See Ingredients>>>
Glycolic Acid Masque 10%
75 grams (2.64oz)
$50.00
Doctor's Program Facial Sunblock SPF-30
increases the natural protection of the skin against the sun by a factor of 30.
A bio-botanical formula.
Paba free and oil free formulations.
Waterproof, sweatproof and fragrance free.


Facial Sunblock - SPF 30
50 gram (1.76oz)
$40.00
Doctor's Program Oily Skin & Acne Gel
is superior in clearing up oily skin and acne issues. Containing Glycolic Acid 8% & Benzakonium Chloride we've combined an optimal combination of additional ingredients to remove the unwanted oils, fats and other lipids present in oily & acne prone skin.
Oily Skin & Acne Gel
150 ml (5oz) bottle
$55.00
MOISTURIZERS
Doctor's Program Anti-Aging BTF Stratum - Out of Stock
contains 10% Glycolic Acid, CoEnzyme Q10 and A combination of powerful antioxidants!
BTF Stratum helps to visibly reduce the appearance of fine lines and wrinkles while refining uneven skin tone and rough texture.
Added Shea Butter deeply conditions and nourishes to improve elasticity in aging skin.
When used regularly skin looks smoother, clearer and more youthful. Suitable for most skin types, particularly dry, mature and sun damaged skins.
Apply a small amount to cleansed skin every night for best results.
Anti-Aging BTF Stratum
30ml (1.01 oz)
$85.00
Doctor's Program Enhanced Cream
is a concentrated AHA based night cream that smooths out fine lines and wrinkles and can resurface aging skin.
Glycolic Acid loosens and removes damaged skin cells to refine uneven texture as well as encouraging cell turnover to revive a dull complexion. By intensely exfoliating the skin, uneven pigmentation is corrected and elasticity is increased. When used regularly, the skin looks and feels velvety smooth, soft and plumped.
Due to the concentration of Glycolic Acid, this product may cause redness, itching and tingling as the skin gets used to the ingredient. For patients with normal skin or resistant to low concentrations of glycolic acid. It is recommended that you apply a sunscreen daily when using products that contain AHAs.
See Ingredients>>>
Enhanced Cream
50 gram (1.76oz)
$65.00
THE BEAUTY SECRET OF WOMEN AROUND THE WORLD IS NOW AVAILABLE TO YOU!
FREE SHIPPING ON ALL ORDERS OVER $150.00 WITHIN THE CONTINENTAL UNITED STATES
(Excluding Alaska and Hawaii) International Shipping Info>